Corporate Uniforms
design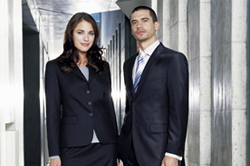 Vishesh Uniforms is the one-stop-shop for all your corporate clothing, work wear and staff clothing requirements. The company has specialist departments, each run by dedicated staff with years of experience in their field. As part of our service we can manufacture Corporate Uniforms that suit your exact needs and perform in all weathers.
Weaving In Fashion & Functionality
In offices, your attire speaks a thousand words even before you do. What employees wear is a clear indicator about the business they represent. Vishesh helps customers differentiate their businesses through design-led clothing solutions. With attires that weave in fashion and functionality, designs by Vishesh reflect an inherent sense of style within the context of the Indian work environment.
Exclusive Services Provided By The Vishesh Team:
Designing the ideal fabrics that suits customer needs.
Collaborating with garment designers to provide maximum style and comfort.
Providing garments on a Made to Measure basis through a vast network of Raymond Shops.
Producing ready-made shirts.
Making corporate dressing accessories like ties and scarves.
Uniforms
our product range
gallery
product showcase