School Uniforms
design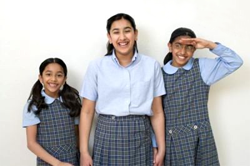 Vishesh makes variety of fabric for institutions seeking high-quality material for their staff uniform. It's customized shades and weaves can be seen on clients who come from all walks of life; from a large number of schools, colleges to make educational sector proud in flying colors which develops the confidence among the youth of this country.
We believe in quality at every level and look at building a bright future with each one of our customers.
With a list of reputed Public and convent Schools, we are growing in stature.
Uniforms
our product range
gallery
product showcase